Product Introduction:
TPBC series self-cleaning filter (TPBC Filter for short), is the high efficiency brushing self-cleaning filter, removing impurities particles on the filter element surface by mechanical brushing and continuously filtering on-line. TPBC filter is designed for fine and accurate filtration ranging from 50-500 micron. It can avoids extruding and breaking the impurities and is capable of the filtration for water and viscous liquid.
Products are widely used in water treatment, paper-making, petroleum, bio-pharmaceuticals, printing ink, grease, food and beverage, etc.
The water to be treated enters the filter element through the water inlet and passes from the inside to the outside. When the pressure difference between the filter inlet and outlet reaches a preset value(or reaches the set time value), the filter will start the self-cleaning process, and the entire self-cleaning process includes two step:1)open the drain value located on the upper end cover of the filter 2)the motoe drives the stainless steel wire brush inside the filter to rotate,and the impurities captured by the filter are thus brushed by the steel brush and discharge from the drain value.The entire cleaning process takes about 15-60seconds.The system keeps flowing during cleaning.It can be controlled entire operation of the filter is controlled by a control box equipped.
Specifications
TPBC Brush Self-cleaning Filter

Model

Water inlet/outlet(mm)

Filter area(c㎡)




Capacity (woven mesh/V-SLOT) (m³/h)

H1

H2

H3

L1

L2

TPBC-104

100

3725

100/80

260

950

400

240

600

TPBC-106

150

5640

160/130

370

1250

400

300

660

TPBC-108

200

6330

300/220

400

1250

700

325

690

TPBC-110

250

6330

450/220

500

1350

700

325

690

TPBC-112

300

8000

650/320

600

1380

1000

325

690

TPBC-114

350

8000

900/450

600

1380

1000

325

690

TPBC-116

400

12150

1100/600

650

1420

1200

450

850

Main Features: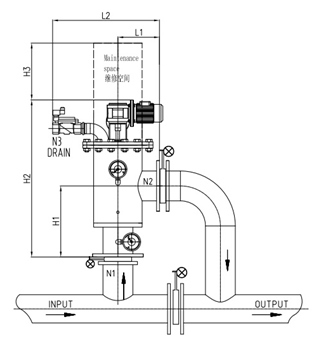 1. Automatic 24-hour on-line filtration, no frequent changing out and cleaning
2. No disposable filter media consumption, save filter media cost and environment cost
3. Stainless steel brush, good impurity removing performance, avoidimpuritiesextruding and breaking
4. Top quality V-SLOT filter element, accurate slots, extremely smooth, easy to brush, high strength and long service life
5. Very low pressure drop, stable flowrate, save energy consumption, good for process stability
6. Low cleaning water consumption, 5% of the filtered water amount, 15~30 s washing time, continuously filtering on-line