Product Introduction:
TPEC is a new kind of environment-friendly flocculation technology which can replace the flocculation of adding medicine. It can make soluble anode dissolved in water under external current, forming metal cations which can combine with cathode generated hydroxyl and become colloid. Colloid can absorb the suspended solids in water and grow into flocculation, thereby purifying water. It has the functions of flocculation, demulsification, air floatation, electric oxidation and so on.
TPEC system consists of electroflocculation reactor, efficient sedimentation tank, buffer pool, filtration & adsorption system, and control system, etc.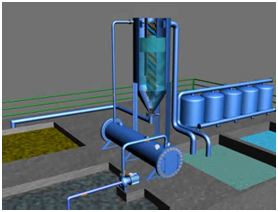 Application:
Widely used in treatment of high turbidity, high suspended and oily sewage, such as waste water from thermal power plant and coal mine, paper mill reuse water, printing and dyeing wastewater, machined cutting fluid (to remove silicon dioxide), fracturing and reproducing fluid in oil field, stone processing industry, high suspension waste water in construction industry, mineral processing wastewater, coal waste water in power plant, coking wastewater, ect.

Specification:
Model

Flow rate

(m3/h)

SS(mg/l) before

treatment

SS(mg/l) after

treatment

Color after

treatment

Power

KW

TPEC10

10

≤5000

≤10

≤50

1.7

TPEC20

20

≤5000

≤10

≤50

2.0

TPEC30

30

≤5000

≤10

≤50

2.6

TPEC50

50

≤5000

≤10

≤50

3.5

TPEC100

100

≤5000

≤10

≤50

7.0

TPEC150

150

≤5000

≤10

≤50

10.5

TPEC200

200

≤5000

≤10

≤50

14.0

TPEC250

250

≤5000

≤10

≤50

17.5

TPEC300

300

≤5000

≤10

≤50

21.0

Main Features: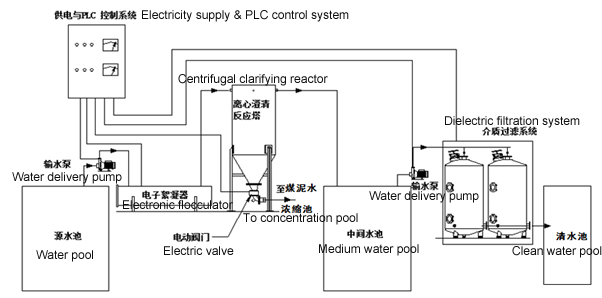 1. Effectively remove suspended matter and reduce turbidity
2. Automatic operation, high processing efficiency, stable treated water quality
3. No flocculant adding, no equipment corroding, low operation cost
4. Extremely low emission, water saving and environmental protection
5. Suitable for various PH water
| | | | |
| --- | --- | --- | --- |
| Parameter | Raw water | Afterflocculation clarifier | After media filtration |
| PH | 7.1 | 7.22 | 7.07 |
| TSS | 860 | 35 | <3 |
| COD | 42 | 6 | ND |
| NTU | 170 | 28 | 0.1 |
| Conductivity (ms/cm2) | 1200 | 1130 | 1120 |